Heavy Duty Petrol Demolition Jack Hammer Drill Concrete Breaker 2 Chisels 52CC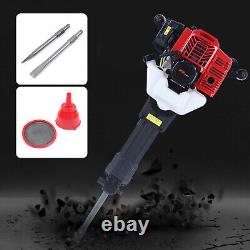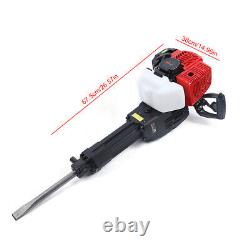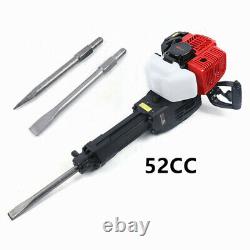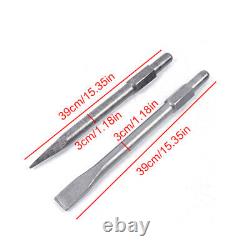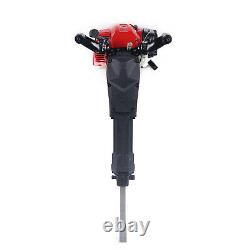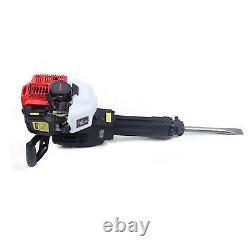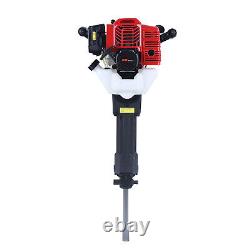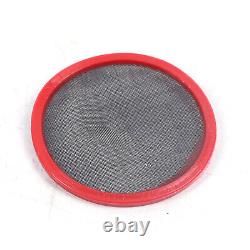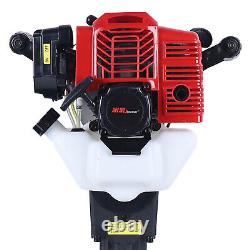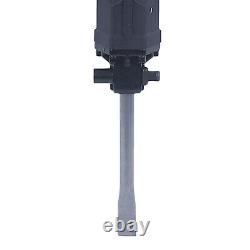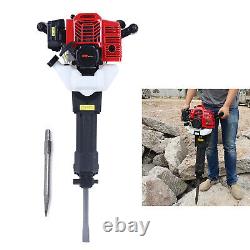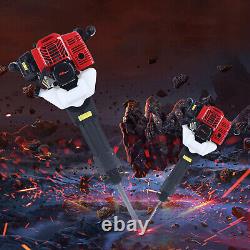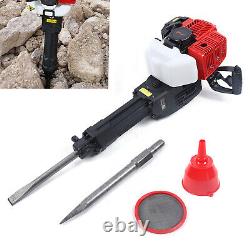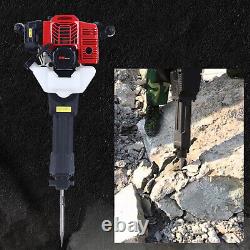 Heavy Duty Petrol Demolition Jack Hammer Drill Concrete Breaker 2 Chisels 52CC. This Product Is Heavy on Top and Light on Bottom.
It Is Easy to Fall When Standing Upright. Please Pay Attention to the Posture to Avoid Falling and Damaging the Machine. This Product Is Heavy and Light, Easy to Fall in the Vertical State, Please Pay Attention to Posture to Avoid Falling and Damage the Machine, Due to Falling Products Damaged, the Company Does Not Assume After-sale Responsibility. Engineer Type:44mm, Single Eylinder, Air Coling. Fuel:mixing Oil(Gasoline 25, Two-stroke Engine Oil 1).
Fuel Tank Capacity:1.3l. Max Torque and Speed:3.5n. Starter System:hand Pull Start. Net Weight :20.5 Kg(45.19lb). Dimensions: 690370270mm(27.1714.5710.63inch).
Cylinder Diameter Stroke :44×34 Mm(1.73×1.34 Inches). I It Can Use on Building Construction, Road Building Project in the Broken. 2 Break Cormerstone for the Railway Road and Tamp Sleepers Tamping Work.
3 Power Embedded in the Telecommunications Cables Broken Ditching Work. 4 Cold Water and Ice Breaking Region, the Frozen Road Digging Shovel to Clear Cutting of Destroying.
Other Destroying Other Strong Areas. 1 It Is the World's Lightest Weight, Lowest Displacement Engine Type Gasoline Hammer Handheld. 2 a Perfect Body and"V" Linear Operation, Minmizing the Hands of Vibration, Has Significant Control of. Convenience and Comfort, the Operator Can Shovel Digging a 360 Degree Rotation.
3 It Can Regulate the Number of Impact Energy and Impact, Apply for a Variety of Materials Suitable for Construction. 4 Applications: Our Machine Is Suit in Many Kinds of Situations, Such As Crashing Project in Road-building, Ectric Power, Telecom, Tclecom, and Cable, Ditch These Kinds of Crashing Work. Small Size, Simple Structure, Easy Operation, Durable and Beautiful. Anti-slip Comfortable Handle, Anti-slip, Anti-loosening, Better Handle, Safer to Use.
Ventilation Around the Machine to Ensure Timely Engine Heat Dissipation. Advantage : If You Use Our Machine, Then You Can Ignore the Trouble of Diesel Engine and Pressing Machine, Trucking-lorry This Kind of Heavy Equipment, Which Will Not Limited by the Pipe Line, Electric Line, Cable No Matter How High and How Far, We Can Work Situation. The Operator Need Wear Sip-esistant Safety Shoes. Wear Earplugs for a Long Time Operation. Balance Body When You Operation the Machine.
Operating the Machine in a Right Position. Prohibit Smoking When You Operate the Machine. When You Lift Machine, the First Control You Need Dial to Reach the Minimum Scale, Let the Machine.
Tell Idlers Away from the Work Area Avoid Injury. The Process of Using Machine May Lead to Gravel. Select Medium-speed Gasoline Hammer to Run for the Best. Control Dial to Between 3 to 4 in Scale. In the Use of Operation, the Operator Is Not Equal to the Greater Pressure Crushing, Stamping.
Consolidate Faster, Try to Use the Weight of the Machine Itself, the Force Should Be Reasonable in Order to Achieve High Eliciency and Easy Operation Results. Gasoline Hammer for Crushing, Stamping, Solid Work, the Work Can Not Be Used to Pry the Stone. Maintain the Handles Dry, Clean, No Oil or Fuel Mixture. Stop the Operation Midway; You Must Turm off the Engineer. Every Time Please Check Normal Fastening Screws of the Connector Before Use, If Loose, Must.
Tighten the Screws Can Be Used. Prohibition Only Pure Gasoline (Without Two-stroke Engine Oil)for Fuel. Gasoline Is Highly Flammable, so to Refuel in a Welll Ventilated Environment. Do Not Add Oil Too Full, Do Not Leave the Fuel Fllere in Neck Part of Machine. Fuel :Wait the Fuel All Volatilization, Then You Can Start Machine. After Refueling, Tighten the Oil Lid, Please Check Frequently Whether the Damage the Fuel Tank. Leaks, If Found Damaged Replace Immediately. Reserve Oil in Storage Areas, Remove All the Root Causes of Fire or Cause Sparks. In Closed Areas, Such As Tunnels, Trenches and Deep Groove in the Work Environment When Using. Gasoline Hammer to Ensure Suficient Fresh Air, Exhaust Gas Containing Carbon Monoxide. Dangers, Should Bring Electric Fan for Air Flow. Forbid Quickly Aceleratle or Brake, so As Not to Damage the Machine. Avoid the Impact of Fragmentation Work Against the Machine in the Context of High Speed.
Transfer Site Long-distance Transport, Should Be Emptying the Tank. Prohibit Substandard Maintenance Staff Dismount Gasoline Hammer, 1o Avoid Structural Damage to Parts, Resulting in Shortened Life of Gasoline Hammer and Accidents.
Feedback is very important to us. It is impossible to address issues if we do not know about them! Please keep the original box or packaging within 15days since item received.
Your satisfaction is our ultimate goal. We work hard to earn your trust and future business. A If you receive a defective item, you may return it or ask for a discount.
Due to time zones, our reply to your questions may not be immediately. If it's non-workdays, please kindly be patient and wait till Monday. High quality, Easy installation, high performance.
Demolition Concrete Jack Hammer Breaker. 690×370×270mm(27.17x14.57x10.63 Inch).
Mixing oil(gasoline 25, two-stroke engine oil 1). 44×34 mm(1.73×1.34 inches).